Ewa Pawelec, et.al. - Wpływ niskotarciowych dodatków do smarów plastycznych na zmiany warstwy wierzchniej
W artykule przedstawiono rezultaty badań dotyczących wpływu wybranych modyfikatorów na zmianę przeciwzużyciowych i przeciwzatarciowych oddziaływań opracowanych smarów plastycznych. Badaniom poddano kompozycje smarowe zmodyfikowane napełniaczem mineralnym i dodatkiem z grupy siarkowanych estrów. ...
---
Miroslav Radovanovic - Określenie prędkości cięcia laserem w oparciu o bilans strat energetycznych
Problemy technologiczne związane z zastosowaniem cięcia laserowego w obszarze konturowego cięcia arkuszy wynikają z niewystarczającej wiedzy o technice cięcia laserowego w powiązaniu z brakiem wystarczających, wiarygodnych danych praktycznych oraz wiedzy o czynnikach wpływających na ten proces. Podstawowym parametrem, który należy określić ...
---
Wiesław Rakowski, et.al. - Fretting w ocynkowanych linach stalowych
W artykule przedstawione są badania zużycia typu fretting, zachodzącego pomiędzy przeznaczonymi na liny stalowymi drutami ocynkowanymi. Zostały przedstawione warunki w jakich występuje zespół zjawisk zwany frettingiem. Badania eksperymentalne przeprowadzono na skrzyżowanych drutach liniarskich, dla odpowiednio dobranych częstości drgań, amplitud i ...
---
Wiesław Rakowski, et.al. - Efekt Barkhausena w zastosowaniu do sensorowych warstw ślizgowych
W artykule autorzy przedstawiają weryfikację modelu kompozytu piezorezystywnego metodą cienkiej warstwy sensorowej i metodą szumu fal Barkhausena dla kompozytów polimerowych. Te dwie metody zastosowano przy badaniu próbek (wykonanych odpowiednią technologią, mającą na celu oddzielenie elektryczne warstwy kompozytowej od podłoża). ...
---
Jan Senatorski, et.al. - Właściwości tribologiczne dyfuzyjnych warstw chromowanych w warunkach tarcia ślizgowego przy styku skoncentrowanym
Praca przedstawia wyniki badań tribologicznych warstw dyfuzyjnych wytwarzanych na stali węglowej w procesie chromowania próżniowego. Właściwości tribologiczne takich warstw dyfuzyjnych oceniano na podstawie wyników badań tarcia ślizgowego przy styku skoncentrowanym. Wykazano wysoką odporność na zużycie badanych warstw chromowanych.
---
O. Sizova , et.al. - Przemiana struktury oraz związane z nią procesy dyfuzyjne i mechaniczne podczas ultradźwiękowej obróbki i tarcia spiekanej stali
Zbadano wpływ obróbki cieplnej oraz ultradźwiękowej na strukturę oraz właściwości perlitu w warstwie wierzchniej. Badania w warunkach tarcia tocznego wykazały, że modyfikacja budowy warstwy wierzchniej zwiększa stabilność stykową próbek.
---
Bogdan Sovilj, et.al. -Analiza procesów tribologicznych w sztucznych stawach biodrowych
W praktyce medycznej coraz częściej spotykany jest problem zmian degeneracyjnych systemu kość-staw (spowodowanych chorobami w ciele ludzkim. Szczególny problem stanowią zmiany w stawach biodrowych starszych ludzi. Tudzież liczba wypadków, w których uszkodzeniu ulega staw biodrowy wciąż rośnie. W większości przypadków skuteczny jest jedynie zabieg chirurgiczny, tzn. wszczepienie sztucznego stawu biodrowego lub jego protezy. ...
---
Jacek Spałek, et.al. - Specyfika procesu tarcia i smarowania węzłów konstrukcyjnych o małych amplitudach przemieszczeń i prędkości ruchu oscylacyjnego
Połączenia sworzniowe zawiesi naczyń wyciągowych oraz splotki lin nośnych należą do tych skojarzeń konstrukcyjnych, które podlegają wymuszeniom kinematycznym o charakterze oscylacyjnym (drgającym). W tym przypadku proces tarcia jest stanem nieustalonym, przejściowym - od tarcia spoczynkowego do kinematycznego. Inne zatem musi być podejście ...
---
Stanisław Strzelecki - Effct of misalignment on the friction loss of 3-lobe journal bearing at turbulent oil film
Przekoszenie osi czopa i panewki w łożyskach ślizgowych spowodowane jest zginaniem wału oraz błędami niewspólosiowości podpór łożyskowych. Powoduje koncentrację naprężeń na krawędziach łożyska pracę łożyska w warunkach tarcia mieszanego oraz intensywne zużycie współpracujących elementów [L. l, 2]. Z drugiej strony ciepło wytwarzane w szczelinie ...
---
Stanisław Strzelecki, et.al. - Teoretyczne i doświadczalne badania wielkopowierzchniowych łożysk ślizgowych w warunkach tarcia płynnego i mieszanego
Rozwój niezawodnych, wydajnych maszyn wirnikowych zakłada wzrost obciążenia łożysk ślizgowych. Zmniejszenie start tarcia w łożyskach ślizgowych jest jednym z warunków zmniejszenia strat mocy tych maszyn.
W normalnych warunkach pracy łożyska ślizgowe pracują w warunkach tarcia płynnego. Na krzywej Stribecka punkt pracy łożyska położony jest daleko z prawej strony ...
---
Michał Styp-Rekowski - Wewnętrzne opory w ruchu specjalnych kulkowych łożysk tocznych
Pojazdy jednośladowe są bardzo popularnym i ważnym środkiem transportu. Dla przykładu na całym świecie produkuje się ponad 20 milionów rowerów. Ponieważ ich źródłem energii jest człowiek, krytyczny staje się problem zamiany energii na opór ruchu. Łożyska używane w rowerach wykonywane są z odmiennych materiałów niż spotykane w innych zastosowaniach oraz są konstrukcji ...
---
A.I. Sviridenok, et.al. - Badanie tribo-technicznych charakterystyk żeliwno-grafitowych kolektorów prądowych trolejbusów w warunkach smarowania granicznego i zmiennej atmosfery
Obserwowana tendencja wzrostu zastosowania środków transportu o napędzie elektrycznym wykorzystujących ślizgowe styki elektryczne do przesyłania energii elektrycznej nakłada wymagania co do ich niezawodności i jakości. Wydajnym sposobem rozwiązania tego problemu jest zastosowanie przewodzących środków smarowych.
---
S. Tarasov, et.al. - Redukcja tarcia poprzez zastosowanie nanometalicznych dodatków do oleju mineralnego
Przeprowadzono badania tarcia i zużycia skojarzenia stal-stal smarowanego olejeni mineralnym z dodatkami nanoproszków metali, Nanoproszki miedzi, cynku i brązu wytworzono z wykorzystaniem elektrycznej eksplozji drutów metalowych. Pomimo braku selektywnego przenoszenia, odnotowano redukcję tarcia i zużycia, zwłaszcza przy wysokich wartościach ...
---
Edward Walicki, et.al. - Wpływ bezwładności środka smarowego oraz przewodności ścianki na rozkład ciśnienia w magnetohydrodynamicznym łożysku
Rozważono ciągły magnetohydrodynaniiczny (MHD) przepływ laminarny lepkiej cieczy newtonowskiej w szczelinie łożyska modelowanej przez dwie współosiowe powierzchnie. Przy rozwiązaniu problemu wykorzystano równania dla cienkiej warstwy MHD i wyrażono je w krzywoliniowym układzie współrzędnych x, u, y. Przeprowadzono analizę wpływu przewodności ścianki oraz bezwładności obracającego się płynu ...
---
Włodzimierz Waligóra - Ocena funkcji skumulowanego rozkładu Weibulla powierzchniowej trwałości zmęczeniowej
Została przeprowadzona analiza zastosowania czterech wzorów dla funkcji skumulowanej w przypadku powierzchniowej trwałości zmęczeniowej. Badania zostały przeprowadzone dla trwałości zmęczczeniowej rolek, wałeczków łożysk wałeczkowych oraz stożkowych łożysk wałeczkowych samochodu osobowego. Stwierdzono, że najprecyzyjniej powierzchniową trwałość zmęczeniową opisuje ...
---
Eva Zdravecka, et.al. - Badania stanu powierzchni w systemach tribologicznych techniką AFM
Powłoki uzyskiwane w procesie natryskiwania cieplnego coraz częściej znajdują zastosowanie do zwiększania odporności na zużycie cierne. Tribologiczne właściwości pięciu rodzajów materiałów powłok zostały zbadane za pomocą maszyny RWAT. Powłoki uzyskano metodą HP/HYOF w firmach SKODA Plezen i US STEEL Kosice. Wykonano badania z użyciem techniki REM, ...
---
Sławomir Zimowski, et.al. - Łożysko ślizgowe z polimerową warstwą sensorową
Tribologiczne sensorowe warstwy łożyskowe (TWS) są półprzewądzącymi trójfazowymi kompozytami na bazie termoutwardzalnych żywic, napełnianych proszkami grafitu, metali oraz dodatkami smarów stałych. Polimerowe kompozyty posiadają szczególne właściwości: rezystywność tych materiałów łożyskowych zależna jest od przyłoźonego obciążenia i temperatury. Autorzy prezentują metodę diagnozowania ...
---
L. Zsidai, et.al. - Odmienne zachowanie tribologiczne polimerów w skojarzeniu z powłoką DLN i powierzchnią stalową
Głównym celem pracy jest określenie właściwości ślizgowych małej i dużej skali próbek polimerowych we współpracy z elementem stalowym oraz pokrytym powloką DLN (diamond-like-carbon). Zostały przeprowadzone badania laboratoryjne w celu określenia właściwości tribologicznych różnych konstrukcyjnych tworzyw sztucznych oraz wykonano obserwację optyczną ...
---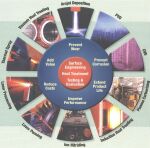 The 13th International IFHTSE/ASM Surface Engineering Congress
The 13th International Federation for Heat Treatment and Surface Engineering Congress

ASM International Surface Engineering Congress Exposition
7-10 0ctober 2002
Advance Registration ends 13 September, 2002. Register Online Today!
Advance Housing Registration ends 29 August, 2002.
Greater Columbus Convention Center • Columbus, Ohio USA
Co-located with ASM Materials Solutions Conference and Show and TMS Fall Meeting
---
INTERNATIONAL WORKSHOP "TRIBOLOGY AND EMISSION PHENOMENA 2002"
October 17-19 , 2002
Prague, Czech Republic
---
ASIATRIB 2002 INTERNATIONAL CONFERENCE
October 21-24 , 2002
Cheju Island, Korea
Oral Paper Abstracts : October 31, 2001
Poster Paper Abstracts : December 31, 2001
Technical Sessions
Advanced tribomaterials
Biotribology
MEMS
Micro and nanotribology
Computer-aided tribological design
Dry and boundary lubrication
Elastohydrodynamic and thermo-elastohydrodynamic lubrication
Engine tribology
Fluid film lubrication
Fundamentals of friction and wear
Lubricant and tribochemistry
Additives
Magnetic storage system
Maintenance tribology
Rolling and sliding contacts
Solid lubrication
Surface characterization and surface coatings
Surface mechanics and thermoelastic contact problems
Tribofailures
Tribological machine elements
Bearing and Sealing Technology
Tribology in extreme environments
Tribology in processing
Tribology in manufacturing technology
Rail and wheel technology
Information technology in oil and gas industries
Tribology for clean technology
Chemical manufacturing polishing
IT application for oil and gas industries
---

ASME / STLE INTERNATIONAL JOINT TRIBOLOGY CONFERENCE 2002
October 27 - 30, 2002
Cancun, Mexico
Deadline for abstract: January 2, 2002
Program Topics
Fluid Film Tribology (EHD, HD, gas bearings)
Lubricants (oils, greases)
Magnetic Storage Tribology
Metalworking Tribology
Rolling Element Bearings
Machine Components Tribology (bearings, gears, clutches, seals etc.)
Tribology Fundamentals (wear, friction, modeling, contact mechanics)
Tribomaterials (solid lubricants, ceramics)
Nanotribology
---
---
AVS 49th INTERNATIONAL SYMPOSIUM
November 4-8, 2002
Denver, Colorado, USA
Deadline for abstract: April 29, 2002, 5:00 p.m. -- Paper/Fax
Deadline for abstract: May 6, 2002, 11:00 p.m. -- E-mail/Web
Topics
Applied Surface Analysis
Biomaterial Materials
Dielectrics
Electrochemistry
Electronics
Magnetic Interfaces and Nanostructures
MicroElectroMechanical Systems
Manufacturing Science and Technology
Nanostructures
Organic Films and Devices
Processing at the Nanoscale
Plasma Science
Semiconductors
Surface Engineering
Surface Science
Thin Films
Vacuum Technology
Advancing Toward Sustainability
Biomaterials Plenary Session
Nanotubes: Science & Applications
Molecular-and Bio-Magnetism
Photonics
---
Industrielle Tribologie Wechselwirkung Oberfläche / Schmierstoffe
Freitag, 29. November 2002
Tagungsort
Technologie- und Forschungszentrum
Wiener Neustadt
A 2700 Wiener Neustadt, Viktor Kaplan Straße 2, 1. Stock
Parkplatzmöglichkeiten direkt vor dem Haus
in Zusammenarbeit mit
TU Wien - Institut für Mikro- und Feinwerktechnik
Arbeitsbereich Tribologie und Konstruktion
und dem Mitveranstalter

Kosten:
Teilnahmeentgelt (exkl. 20 % MWSt.):             € 109,00
Ermäßigtes Teilnahmeentgelt
für ÖTG- Mitglieder (exkl. 20 % MWSt.):       € 89,00
Im Teilnahmeentgelt sind Tagungsunterlagen, Pausengetränke und Mittagsimbiss enthalten.
Kein Teilnahmeentgelt für Vortragende, sowie im Rahmen der ÖTG- Firmenmitgliedschaft (je nach gewählter Kategorie des ÖTG- Mitgliedsbeitrages)!

Tagungsort:     Technologie- und Forschungszentrum

Wiener Neustadt
A 2700 Wiener Neustadt,
Viktor Kaplan Straße 2, 1 Stock
+43 (0) 2622- 81600
Parkplätze direkt vorm Haus

Tagungsbüro: ÖTG

A 1040 Wien,
Floragasse 7/ 2

Sekretariat
Fr. Martina N UHSBAUMER  +43 (0) 1- 505 34 00- 1

+43 (0) 1- 505 34 00- 4
office@oetg.at
www.oetg.at
Download als PDF Datei

Bankverbindung: CA (BLZ 11000), Konto 0964- 6606500
Anmeldung erbeten bis 15. November 2002 !
Programmänderungen vorbehalten !
---
Auf Ihre Teilnahme freuen sich


ÖSTERREICHISCHE TRIBOLOGISCHE
GESELLSCHAFT

Präsident: Univ. Prof. Dr. Friedrich F RANEK

und der Mitveranstalter

Österreichisches Kompetenzzentrum für Tribologie
---
SYMPOSIUM 2002
INDUSTRIELLE TRIBOLOGIE –
WECHSELWIRKUNG
OBERFLÄCHE/ SCHMIERSTOFF
09.00 Uhr       Begrüßung und Eröffnung

09.15 Uhr       Prof. Dr.- Ing. W. J. Bartz
Tribologie & Schmierungstechnik, Denkendorf, D
Grundlagen der Tribometrie
Einführung – Tribologie – Reibung und Verschleiß – Dynamische Mechanik tribologischer Systeme – Präzision von Prüfverfahren – Übertragbarkeit von Prüfergebnissen – Zusammenfassung

09. 50 Uhr       Prof. H. Störi und Prof. W. S. M. Werner
Institut f. Allgem. Physik, TU Wien, A
Elektronenspektroskopie tribologischer Oberflächen
Elektronenspekroskopie ist besonders geeignet, extrem dünne Schichten und kleine Bereiche an Oberflächen zu analysieren. Im Hinblick auf die Anwendungen im AC˛ T werden die Methoden Augerelektronen- Spektroskopie (AES) und Photoelektronen- Spektroskopie (XPS, ESCA) anhand einiger Beispiele vorgestellt. Vorteile, Begrenzungen und alternative Methoden werden diskutiert.

10.10 Uhr       Dr. P. Kelman, Dipl.- Ing. G. Zehethofer
AC˛ T, Wr. Neustadt, A
Einsatz der Metallographie u. Rasterelektronenmikroskopie in der tribologischen Schadensanalyse von Oberflächen
Um die Schadensursache defekter technischer Systeme bestimmen zu können, bedient sich der Schadensanalytiker verschiedener Auswertungen. Die Einsatzmöglichkeiten der Metallographie und Rasterelektronenmikroskopie werden anhand metallographischer Gefügeaufnahmen und Rasterelektronenbildern erläutert.

10. 30 Uhr       Dr. A. Neuhaus
AC˛ T, Wr. Neustadt, A
Kinetik und Tribologie von elektromechanischen Schaltkontakten
Kinetische und Tribologische Parameter sind entscheidend für das Schaltverhalten und die Lebensdauer elektromechanischer Schaltkontakte (Relais, Mikroschalter etc.). Die Kinetikparameter müssen dabei im Hinblick auf das Verschweißen und die Materialwanderung einzeln untersucht werden. Zur Interpretation wurden zum Teil mathematisch/ mechanische Modelle herangezogen welche eine schlüssige Erklärung der Messergebnisse ermöglichen.

10.50 Uhr       Kaffeepause

11.10 Uhr       Dr. G. Preisinger
SKF Österreich AG, Steyr, A
Elektroerosion im geschmierten Kontakt zwischen Wälzkörper und Laufbahnen
Stromdurchgang in der Kontaktzone zwischen Wälzkörper und der Innen- und Außenringlaufbahn kann unter anderem Schmelzkrater (Elektroerosion) entstehen lassen. Teile des Kraterrandes brechen aus, werden überrollt und verschmutzen den Schmierstoff. Eine stark reduzierte Schmierstoffgebrauchsdauer oder sogar der kompletten Ausfall des Tribosystems "Wälzlager" ist die Folge.

11.30 Uhr       Dipl.- Ing N. Dörr, Doz. Dr. A. Ecker
ARC Seibersdorf, A
Schwefelverbindungen in Kraft- u. Schmierstoffen
Der Schwefelgehalt in Otto- und Dieselkraftstoffen wurde in den letzten Jahrzehnten stetig verringert. Diese Entwicklung ist auf die Forderung nach Umweltschutz einerseits und die steigenden Ansprüche an Motor und Katalysator andererseits zurückzuführen. Im Gegensatz dazu stellen Schwefelverbindungen wichtige Komponenten in Schmierstoffen dar, wo sie unter anderen als Verschleißschutz und Extreme- Pressure- Additive eingesetzt werden. Die Wirkung von Schwefelverbindungen in Kraft- und Schmierstoffen wird diskutiert.

11.45 Uhr       Dipl.- Ing. E. Kenesey, Doz. Dr. A. Ecker

ARC Seibersdorf, A
Sauerstoffverbindungen in Kraft- u. Schmierstoffen
Sauerstoff ist in Kraft- und Schmierstoffen sowohl in gelöster Form als auch durch gezielt zugesetzte Sauerstoffverbindungen vertreten. Aufgrund der strengen Vorschriften für Kraftstoffe ist die Zugabe von Lubricity- Additiven zu Dieselkraftstoff notwendig geworden, um die erforderliche Schmierfähigkeit zu gewährleisten. Dafür eignen sich insbesondere sauerstoffhaltige Verbindungen. In Schmierstoffen sind Sauerstoffverbindungen in Basisölen und Additiven wie z. B. Antioxidantien und Friction Modifier enthalten.

12.00- 13.30 Uhr Mittagspause / Buffet

Special Event:
Besichtigung des Kompetenzzentrums für Tribologie

Möglichkeit zur Besichtigung des Österreichischen Kompetenzzentrums für Tribologie - AC2T

Posterpräsentation der Forschungsgruppen im Technologie- und Forschungszentrum Wr. Neustadt



13.30 Uhr       Dr. A. Pauschitz, Prof. C. Kajdas, Prof. F. Franek
IMFT, TU- Wien, A, TU Warschau, PL
Tribologische Untersuchungen biologisch verträglicher Schmierstoffe - Teil 1
Eine zentrale Fragestellung bei der tribologischen Untersuchung mit Modellkörpern ist die Übertragbarkeit der Ergebnisse in die Praxis. Zur Beurteilung biologisch verträglicher Schmierstoffe wurden mehrere Untersuchungsmethoden, welche unterschiedlichen Belastungssituationen in der Praxis entsprechen, ausgewählt und die Verwendbarkeit der Methoden für derartige Schmierstoffe untersucht.

13.45 Uhr       Prof. C. Kajdas, Dr. A. Pauschitz, Prof. F. Franek
TU Warschau, PL, IMFT TU- Wien, A,
Tribologische Untersuchungen biologisch verträglicher Schmierstoffe - Teil 2
Die Forderung nach biologisch und physiologisch einwandfreien Schmierstoffen fordert die Suche nach neuen Additiven. Die Leistungsfähigkeit unterschiedlicher Schmierstoffe mit biologisch verträglichen Additiven und die dabei auftretenden tribochemische Effekte wurden ermittelt.

14.00 Uhr       Prof. Dr. B. Jakoby
Institut für Industrielle Elektronik & Materialwissenschaft, TU Wien, A
Online- Ölzustandsüberwachung für Verbrennungskraftmaschinen
Die Überwachung des Motorölzustandes in Verbrennungskraftmaschinen (z. B. in Kraftfahrzeugen) erlaubt die Realisierung vergrößerter Ölwechselintervalle. Dies bringt sowohl ökonomische als auch ökologische Vorteile. Überdies kann man durch die direkte Überwachung des Ölzustandes Rückschlüsse auf den momentanen Zustand des Motors ziehen was die frühzeitige Erkennung von möglichen Motorschäden unterstützt. In diesem Beitrag werden die Anforderungen an die zugrundeliegende Sensorik sowie der entsprechende Stand der Technik diskutiert.

14. 20 Uhr       Dr. A. Merstallinger
ARC Seibersdorf research GmbH, Seibersdorf,
A Tribologische Werkstoffe in spezieller Umgebung (Vakuum)
In ungeschmierten Tribosystemen, in spezieller Umgebung, sind die Bildung von Reaktions- und Transferschichten, letztere v. a. zur Schmierung, von essentieller Bedeutung. Der Begriff "Spezielle Umgebungen" umfasst neben Trockengleitreibung in Gasen (feuchte und trockene Luft, Stickstoff, Edelgase, etc.) auch Vakuum und einen Temperaturbereich von –100° C bis etwa +300° C. Es gibt eine kurze Vorstellung der Messmethodik und einige Anforderungen für Polymerwerkstoffe (basierend auf Polyimid).

14.40       Uhr Dr. Manish Roy

IMFT, TU- Wien,
A Influence of counter face material on elevated temperature wear of thermal sprayed nanocrystalline Cr3C2 -25( Ni20Cr) coating
Thermal sprayed Cr3C2 -25( Ni20Cr) coating showed promising performance under sliding wear particularly at elevated temperature, because of the ability at high temperature, formation of Cr2O3 scale and its ability to retain its strength at elevated temperature. The objective of the presented work was to investigate the effect of different counter face material on the elevated temperature wear of such coating.

15.00       Uhr Dipl.- Ing J. Wappis

Fachhochschule Wiener Neustadt,
A Studiengang Produktions- und Prozessdesign
Schnellere Abläufe und geringere Fehlerquoten entscheiden zunehmend über den Unternehmenserfolg. Der neue Studiengang "Produktions- und Prozessdesign" an der FH Wr. Neustadt trägt dieser Herausforderung Rechnung. Angeboten wird ein Vollstudium (8 Semester) mit Basisausbildung und den Vertiefungsrichtungen "Umwelt– und Sicherheitstechnik" sowie "Instandhaltung und Service", beides mit einer Reihe von tribologierelevanten Ausbildungsfächern. Damit stehen in ca. 1, 5 Jahren erstmals in Österreich Absolventen mit einer vertieften Tribologieausbildung der Industrie zur Verfügung.

15.15 Uhr       Abschlussdiskussion

15.30 Uhr       Schlusswort
---
---
AUSTRIB 2002
December 2-5, 2002
Perth, Australia
Deadline for abstract: February 28, 2002
Topics
Fundamental Studies
Lubrication and Lubricants
Tribological Characteristics of Tribomaterials: metals, ceramics, synthetics, composites, etc.
Surface Engineering
Analysis of Tribosystems
Practical Applications and Case Studies
Monitoring and Maintenance of Tribosystems
Industrial Tribology
Nanotribology
Bio-Tribology
AUSTRIB 2002 PRELIMINARY PROGRAM
Sunday, 1 Dec
16.00 - 19.00 Registration, Matilda Bay Room
19.00 - 21.00 Welcoming Cocktail Reception, Plaza Ballroom

Monday, 2 Dec
8.15 Opening Ceremony North Ballroom
Opening address
8.30-9.10 Keynote address, North Ballroom Friction and wear of ceramics and hard coatings, K. Kato, Tohoku University, Japan

9.15-10.35 Session A1 North Ballroom Wear of Ceramics Chairman
9.15 Model for estimating wear transition loads in ceramics, S. Jahanmir, NIST, USA
9.35 Mild to severe wear transition of ceramics, H. R. Pasaribu, J. W. Sloetjes, D. J. Schipper, University of Twente, The Netherlands
9.55 The critical condition for the transition from HL to ML in water lubricated SiC, X. Wang, K. Kato, K. Adachi, Tohoku University, Japan
10.15 9.15-10.35 Session B1 South Ballroom Hydrodynamic Lubrication Chairman
9.15 Thermohydrodynamic analysis of a worn plain journal bearing, M. Fillon, J. Bouyer, Universite de Poitiers, France
9.35 Dynamic characteristics and stability analysis of a wavy thrust bearing, H. Zhao, F. K. Choy, M. J. Braun, University of Akron, USA
9.55 Modelling of fluid flow in the grooves of a 3-axial groove water bearing using computational dynamics, D. J. Hargreaves, R. Pai, Queensland University of Technology, Australia
10.15 Dynamic performances of journal bearings lubricated with Maxwell Fluids: A mixed model, B. Bou-Said, B. Fantino, B. Najji, INSA, France
10.35-11.00 Morning tea
11.00-12.40 Session A2 North Ballroom Thin Surface Coatings Chairman
11.00 Mechanical and tribological properties of carbon nitride films deposited by unbalanced magnetron sputter ion plating, K. M. Wong and Y. G. Shen, City University of Hong Kong, China
11.20 Tribological behavior of Ti(C,N,O) coatings deposited by unbalanced magnetron sputtering, J. H. Hsieh, C. Li, A. C. Spowage and W. Wu, Nanyang Technological University, Singapore
11.40 Effects of oxide layer formed on TiN coated silicon wafer on the friction and wear characteristics in sliding, C-W. Cho, Y-Z. Lee, SungKyunKwan University, Korea.
12.00 Sliding wear and rolling contact fatigue of rough low friction coatings, F. Svahn, A. Kassman-Rudolphi, Uppsala University, Sweden
12.20 Effects of substrate bias polarity on tribological a-C:Ta coatings, D.Nilsson, E.Coronel, U.Wiklund, Uppsala University, Sweden
11.00-12.40 Session B2 South Ballroom EHL chairman
11.00 Pressure profiles measured within lubricated contacts in presence of dented surfaces. Comparison with numerical models, S.Coulon, I.Jubault, A.A.Lubrecht, F.Ville, P.Vergne, Institut Europeen de Tribologie, France
11. 20 An empirical model for the shear strength of lubricants at high pressures, G. T. Y. Wan, P. L. Wong, City University of Hong Kong, China
11.40 Shear stability of a viscosity index improved oil in EHL contact, D. J. Hargreaves, R. Pai, Queensland University of Technology, Australia
12.00 Experimental observation of a dimple-wedge elastohydrodynamic lubricating film, F. Guo, P. L. Wong, City University of Hong Kong, China
12.20 A boundary element procedure for the solution of the EHL problem of rolling line contacts by a Newtonian fluid, S. E. Sadique, S. Ramakrishna, S. Basri, S. M. Sapuan, M. M. H. Ahmed, National University of Singapore, Singapore
12.40 -14.00 LUNCH Terrace Ballroom
14.00-14.40 Keynote address North Ballroom Nanotribology: the link to macrotribology, S. M. Hsu, NIST, USA
14.45-16.05 Session A3 North Ballroom Surface Characterization/Nanotribology chairman
14.45 3-D characterization and classification of tribological surfaces, G. W. Stachowiak and P. Podsiadlo, University of Western Australia, Australia
15.05 Classification of tribological surfaces without surface parameters, P. Podsiadlo, G. W. Stachowiak, University of Western Australia, Australia
15.25 The effect of slider texture on the tribology of near contact recording sliders, L. Zhou, M. Beck, H. H. Gatzen, K. Kato, G. Vurens, F. E. Talke, University of California-San Diego, USA
15.45 Contact analysis of laser textured disks with thin overcoat, C-H. Huang, T-C. Hsu, Lee-Ming Institute of Technology, Taiwan
14.45-16.05 Session B3 South Ballroom Hydrodynamic/Hydrostatic Lubrication Chairman
14.45 Hydrodynamic effects of tailored inlet roughnesses: extended theory, K. Tonder, Norwegian University of Science and Technology, Norway
15.05 A comparison of techniques for identifying the configuration state of statically indeterminate rotor bearing systems, W.Hu, N.S.Feng, E.J.Hahn, University of New South Wales, Australia
15.25 Design considerations towards the construction of hybrid floating brush seal, S.B. Lattime, J. M. Braun, F.K.Choy, University of Akron, USA
15.45 Design of hydrostatic bearings - a simple approach, R. Sehgal, K. Pranshu, O. P. Gandhi, National Institute of Technology, H. P. , India
16.05-16.30 Afternoon tea
16.30-17.50 Session A4 North Ballroom Micro/Nanotribology Chairman
16.30 Hard disk drive air bearing design: Modified DIRECT algorithm and its application to slider air bearing surface optimization, H. Zhu, D. B. Bogy, University of California, USA
16.50 Micro-investigation of bushes for extreme working conditions, R. Bassani, E. Ciulli, University of Pisa, Italy
17.10 Predicting frictional behaviour of miniature journal polymer-on-polymer bearings, M. Kwacz, Z. Rymuza, Z. Kusnierewicz, Warsaw University of Technology, Poland
17.30 Friction reduction of ceramics by patterned micro dimples, M. Wakuda, Y. Yamauchi, S. Kanzaki, Y. Yasuda, Nissan Research Center, Japan 16.30-17.50 Session B4 South Ballroom Lubrication in Metal Forming Chairman
16.30 An elasto-plasto-hydrodynamic model of strip rolling with oil/water emulsion lubricant, A. Z. Szeri, S. H. Wang, University of Delaware, USA
16.50 Performance parameters of a mixed-film cold rolling process, Y. J. Liu, A. K. Tieu, University of Wollongong, Australia
17.10 Modelling of surface temperature in the mixed lubricated cold rolling, C. Lu, A. K. Tieu, Z. Y. Jiang, University of Wollongong, Australia
17.30 Numerical simulation of tribological effects on drawbeads in sheet metal forming, T-C. Hsu, J-H. Chen, C-H. Huang, Yuan Ze University, Taiwan

Tuesday, 3 Dec
8.30-9.10 Keynote address North Ballroom Aspects of erosive and abrasive wear testing, I. Hutchings, University of Cambridge, UK
9.15-10.35 Session A5 North Ballroom Abrasive/Erosive Wear Chairman
9.15 Scouring erosion resistance of metallic materials used in slurry pump service, R. J. Llewellyn, S. K. Yick, K. F. Dolman, National Research Council, Canada
9.35 Ball cratering tests of white cast irons, G. B. Stachowiak, G. W. Stachowiak, O. Celliers, University of Western Australia, Australia
9.55 A comparison of two-body and three-body abrasive wear in various wet and dry environments, M. S. Bingley, D. Roniotis, University of Greenwich, UK
10.15 Sliding and abrasive wear behaviour of boride coatings, C. Martini, G. Polombarini, G. Poli, D. Prandstraller, University of Bologna, Italy 9.15-10.35 Session B5 South Ballroom Cutting/Machining Chairman
9.15 The effect of coolant concentration on the machinability of nickel-base, Nimonic C-263, alloy, E. O. Ezugwu, J. Bonney, K. A. Olajire, South Bank University, UK
9.35 Wear control of metal cutting by external electromotive sources, M. El Mansori, F. Pierron, D. Paulmier, LMPF, France
9.55 The influence of tooth bite and cutting speed on wear of swaged saw teeth in timber cutting, J. Nordstrom, J. Bergstrom, Karlstad University, Sweden
10.35-11.00 Morning Tea
11.00-12.40 Session A6 North Ballroom Abrasive/Erosive Wear chairman:
11.00 A comparison of friction measurements made during wear on the linear abrasive wear tester with those on the Jenike shear tester, S. Mengistu, M. S. ingley, M. S. A. Bradley, University of Greenwich, UK
11.20 Sharpness of abrasive particles and surfaces, D. De Pellegrin, G. W. Stachowiak, University of Western Australia, Australia
11.40 Micro scratch evaluation of rock types - a means to comprehend rock drill wear, U.Beste, A. Lundvall, S.Jacobson, Uppsala University, Sweden
12.00 Heat treatment characteristics of high chromium cast iron for abrasive wear resistance, S. Inthidech, N. Sasaguri, P. Sricharoenchai, Y. Matsubara, Japan 11.00-12.40 Session B6 South Ballroom Condition monitoring/Failure analysis Chairman
11.00 Influence of oil temperature on gear failures, B-R. Hohn, K. Michaelis, Technical University of Munich, Germany
11.20 Analysis of bearing failure in radial piston pumps, R. Pai, D. J. Hargreaves, Queensland University of Technology, Australia.
11.40 Condition monitoring of oil lubricated ball bearing using wear debris and vibration analysis, J. K. Halme, VTT Industrial Systems, Finland
12.00 Monitoring lubrication condition and running clearance of rolling bearing via acoustic emission, R. Parrika, V. Vidqvist, E. Vaajoensuu, J. Tervo, VTT Technical Research Center, Finland
12.20 The application of similarity theory to gear scuffing, L.Zhao, M.Yu, Beijing University of Science and Technology, China
12.40 -14.00 LUNCH
14.00-14.40 Keynote address North Ballroom Wear modelling of polymer based composites, K. Friedrich, University of Kaiserslautern, Germany
14.45-16.05 Session A7 North Ballroom Abrasive/Erosive Wear Chairman:
14.45 Examination of erosion wear surfaces resulting from the impact of spinning angular-shaped particles, M. S. Bingley, T. Deng, M. S. A. Bradley, University of Greenwich, UK
15.05 Stress wave monitoring of individual particle impacts during erosion tests, S. P. Allen, N. W. Page and P. Dastoor, University of Newcastle, Australia